Insane Awesomeness!! Meet the Replicator 2 Desktop 3D Printer
Friday, September 21st, 2012

This blew my mind. I came across this announcement while surfing the web for recent CG industry updates. Ever since I was a kid, playing with clay and creating objects from scratch has always been a fascination. The challenge has always been that, I would create these nice clay and wood sculptures but I couldn't replicate them. They were creations of a kind, which in itself adds value and uniqueness. However there were times when I wished I could create more than one, because my young brother and sisters always seemed to want to play with the things I created, and I desperately wanted to share, but I only had one of each creation.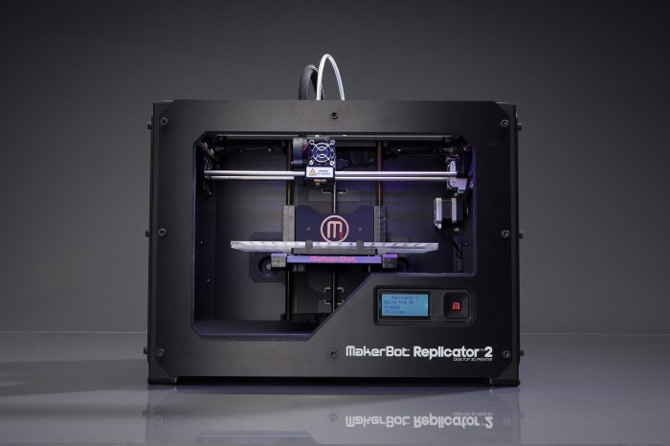 Now imagine the possibilities that this new Printer offers to us the consumers, and especially those interested in making some cash from their 3D models and sculptures!! The possibilities are mind blowing. This, in my opinion, is going to open up a mini industry of sorts to every 3D Modeler and Sculptor who ever wanted to replicate their creations. I for one can't wait for the day I can afford one of these puppies and take it to the races!!
I will be able to create cool 3D models and have the gleeful thought of "Man, now I can have people touch and feel my creations with their own hands" From miniature film sets, to product demonstrations and even gifts for Birthdays, Christmas and events!!"
Check out the full Release Below:
A Whole New MakerBot: Introducing Replicator 2 Desktop 3D Printer: Retail Price ~ $2199.00
MakerBot® Industries introduces the MakerBot® Replicator™ 2 Desktop 3D Printer, the company's easiest, fastest, and most affordable tool yet for making professional-quality models. Designed for the desktop of an engineer, researcher, creative professional, or anyone who loves to make things, the MakerBot Replicator 2 features 100-micron layer resolution, setting a new standard in professional looking models and true-to-life replicas. In addition, the MakerBot Replicator 2 enables users to make big objects, up to 410 cubic inches in volume (11.2″ L x 6.0″ W x 6.1″ H).
Today we reached new heights. If you didn't catch our livestream, MakerBot CEO Bre Pettis ran down a series of announcements, and we'll do our best to highlight all of them on the blog. In the meantime, tweet your questions to @makerbot, email us at tips@makerbot.com, and leave all your comments and thoughts here on the blog.
Ladies and gentlemen of the MakerSphere, meet the MakerBot Replicator 2 Desktop 3D Printer.
We launched the original Replicator at CES this year, and since then we've been listening to the feedback of our incredible community. We've watched this community grow to include moms and dads, teachers, artists, and an exploding number of bold professionals. We've always been blown away by our users, but this latter group sparked new inspiration. We saw what the professionals were doing and set out to make a machine for their needs. It's not a surprise that our own army of engineers understand these needs pretty well.
The Replicator 2 introduces the world of prosumer 3D printing. We made it stronger, faster, and finer than the original Replicator, and we optimized it to work with MakerBot PLA Filament. We also blew up the build volume without making the machine itself any bigger. The MakerBot Replicator 2 Desktop 3D Printer is, as the name suggests, a desktop machine, not a it-needs-its-own-room machine. It's going to fit nicely where you need it and look amazing while it works.
But what's under the hood?
WHAT'S NEW
100-micron layer resolution – If you know our machines or 3D printing in general, you understand this advancement. The original Replicator was tuned for a 270-micron layer height. 100 microns is nearly three times finer than before, which means the layers are even harder to see and feel. For those keeping score, 100 microns is also a good bit finer than the output on some much more expensive machines.
Huge 410 cubic inch build volume – MakerBot desktop 3D printers have never had a build volume this big. When we learned more about PLA, which works beautifully with huge builds, we knew we had to increase the build volume. This is 37% larger than the original Replicator. You can make entire projects on one build plate.
Optimized for MakerBot PLA – Polylactic Acid, derived from corn, has been in our repertoire for a little while, but now we've discovered its full power. It doesn't have an odor, it sticks without sliding, and it makes beautiful things. That's all there is to it.
Sleek, sturdy steel – The powder-coated steel frame of the MakerBot Replicator 2 Desktop 3D Printer gives it all the strength it needs for high print speeds. Plus it's resistant to changes in temperature and humidity.
Smart new parts — The acrylic build plate pops out for you to grab things easier, and the bearings are oil-infused so you spend less time on maintenance.
We're Not Done Yet
Those are the basics of the MakerBot Replicator 2 Desktop 3D Printer, but keep in mind that a world class 3D printer needs world class software. So our software department's been pretty busy too. Introducing MakerWare, developed right here at MakerBot by people who know the ins and outs of the desktop 3D printing workflow as well as anyone.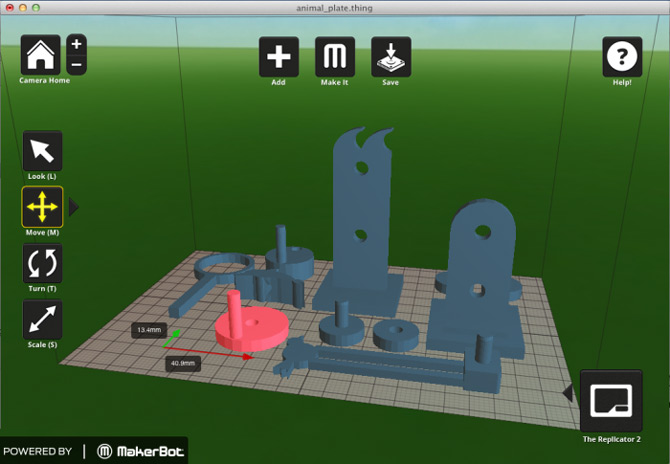 Look how pretty and simple this new application is. Our UX team has tested the patterns of this process to put the controls in all the right places. Now you can open multiple STL or OBJ (yes, OBJ!) files at once, even if they're totally unrelated. You can scale individual pieces together or separately, and save any number of items together as a THING file, our new file format for projects. The MakerWare interface is coupled with other important bits of software that let your MakerBot behave just like a 2D printer. This means you can set something to print in the background and let it go.
MakerWare also simplifies a lot of the decision making. For example, when it comes to choose print settings, you can select preset printing profiles for High, Medium, or Low quality. Finally, MakerWare includes the new slicing engine Miracle Grue, built by MakerBot software engineers. This algorithm prepares models up to 20 times faster (you read that right: 20X) than Skeinforge. For the super enthusiasts, Miracle Grue also defines a much more efficient toolpath, meaning there are fewer stops and starts in the printing process, which makes for more consistent prints overall.
PRODUCT RELEASE SOURCE: www.makerbot.com