Never Despise Humble Beginnings ~ May Art Journey
Tuesday, June 2nd, 2020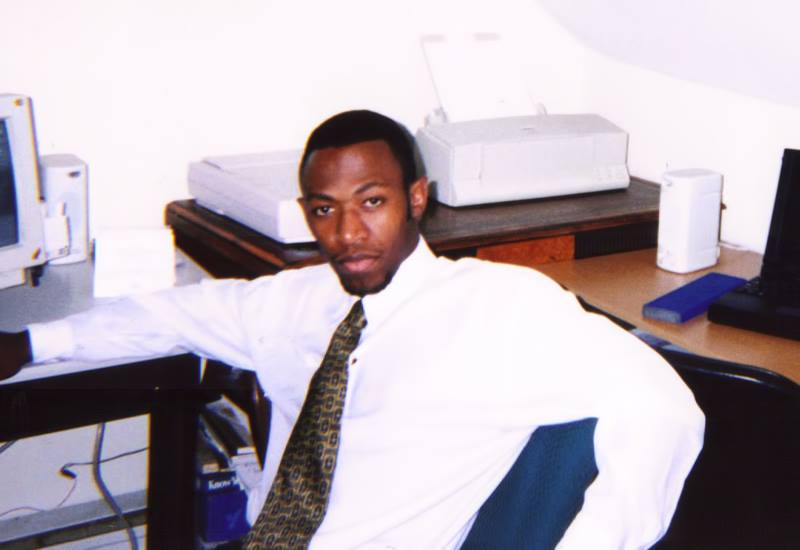 #tbt So this was my First Day heading out to my First Full Time Job as a 3D Artist and Animator in the USA, creating content for Video games, supporting the defense Industry. A friend who took this picture was my college mate and co-worker who got me the internship at the Defense contractor he was working at, I was hired full-time after my internship. 20 other people had applied to the job, people with Masters in Fine Art, and lots more experience than I had, but God had purposed that this was to be my training ground.
I remember feeling nervous, but also excited ~ I was finally going to be creating in real life, the things I had only imagined and experienced as a kid growing up in Uganda ~ I was going to build tanks, guns, animate aircraft, humvees, soldiers training you name it…
I see myself in this photo as a young Ugandan artist, in his parents' backyard at Mutundwe, building wire helicopters, recycling toothpaste tubes to line the frame of wire fighter jets, cutting up discarded Styrofoam to create floating fleets of destroyers, rigging up transmitters and radios recycled from old TVs and radios, to build transmission stations… I remember the day Budo Junior school was taken over by Kadogos as the NRM pushed their way through Busega and towards Kampala ~ at this moment.. all those memories of glinting guns, harsh Swahili barked commands, artillery being swung around to aim towards Kampala… came flooding back.. I wondered if all those experiences would come back to help me in my career as a storyteller… and I can honestly say, they sure did.
I have met so many wonderful and patriotic friends in this industry and learned so much about the sacrifice and price of freedom, I will forever treasure the training and proving ground God chose for me …
Take a look at some of the Video games I was honored to be a part of starting at the moment in this photo.. https://www.sowl.com/2013/02/video-games/ 
Forever grateful for opened and closed doors ~ www.nkozaandnankya.com | www.sowlstudios.com