Crysis 3 features full-performance motion capture which is a first for Crytek.
Thursday, February 21st, 2013
A shout to my friends at Faceware Technologies and Image Metrics for their contribution to the Facial Performance capture for the soldier characters in Crysis 3.

Check out this video interview, you can see the head mounted cams being used, which are products made by Faceware Technologies (http://www.facewaretech.com), powered by Image Metrics.  Clearly the whole process is a challenge for the Actors to adapt to but seeing the results, the effort is well worth it, just as Avatar proved in terms of facial performance capture.
Film and TV actor David Kennedy who currently plays the character Michael 'Psycho' Sykes in Crysis 3 speaks to Matt Cuttle about acting in the 'volume' — the space in which the motion capture is recorded.
Unique to acting in a first-person game is that the actor playing the main character Prophet acts as the camera as he interacts with fellow actors. The actors perform around markers and scaffold poles and use storyboards and mock-ups for reference and speak to the director to help them understand the environment.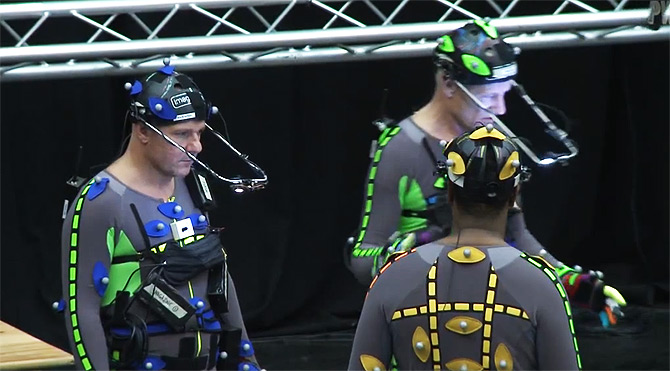 David quotes Crysis 3 director Steven Bender when he says that actors will still be integral to movies and video games as they raise the bar when performances are captured for animation in films such as Avatar.
This particular session was recorded at Teddington Studios.
Did you 'Like' this?
Suit Up: The Crysis 3 Multiplayer Open Beta begins January 29, 2013 for PC, Xbox360 and PS3!
The Crysis 3 Multiplayer Beta will give you just a taste of the full multiplayer experience by offering a preview of the Hunter Mode and Crash Site game modes. Become the Hunter and choose your load-out, tactics, and Nanosuit upgrades carefully — or else you may become the hunted! Crysis 3 Multiplayer supports up to 16 players on PC and 12 on consoles. Crysis 3 is available February 19, 2013 on X360, PlayStation 3, and PC.