Galiwango "Kasobeza" Comic Book, Editions1&2
Saturday, August 28th, 2010
Dear Friends, I am excited to bring you the 1st and 2nd editions of the Galiwango Comic Book Entitled "Kasobeza". To Order, Click on the Paypal Buy Button. You can buy more than one copy if you so wish.
Do please share with all your friends and family. Let's work together to raise awareness to the plight of the last remaining mountain gorillas and the brave men and women that are working tireless to protect them in Uganda, Rwanda and the Democratic Republic of Congo. Thanks for your support! Together we can make a difference.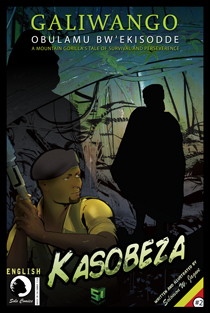 2nd Edition:
Colonel Kasobeza wrestles with what he's about to do. He is tormented by the mission he has been assigned. A mission that requires him to painfully ignore his training as an elite game ranger, and his upbringing as a native dweller of the forest when he was a kid.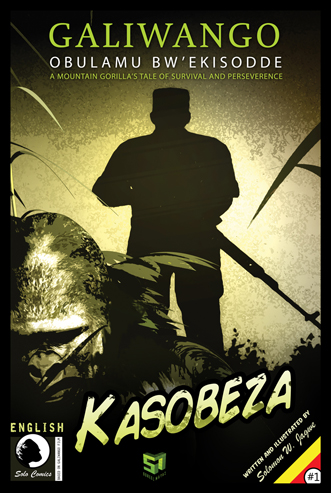 1st Edition:
The comic book traces the life of an elite game ranger called Kasobeza as he transforms from a hardened rebel recruit to a ranger and a mountain gorilla advocate. Setting is the Virunga mountains. Kasobeza has been tasked by Musawo to deliver a baby mountain gorilla in exchange for weapons and money
Price: $20 (includes shipping and handling within the US, Canada, UK and Europe)
SECOND EDITION (2): Kasobeza "ENGLISH VERSION"
Inside Page
Back Cover

FIRST EDITITON (1):Kasobeza "ENGLISH VERSION"
Opening Page
Back Cover